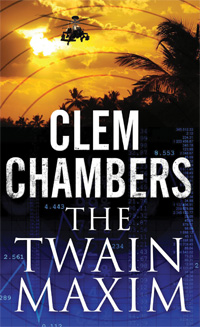 The Twain Maxim
'A mine is a hole in the ground with a fool at the bottom and a crook at the top.' - Mark Twain
A billion dollars is a lot of money, but not for Jim. Barely in his twenties, his uncanny trading skills have catapulted him from East End squalor to unimaginable wealth. While buying into a new mine in Congo to help a friend in trouble, Jim's inquisitive broker has gone missing in the jungle under suspicious circumstances.
Baz Mycock is a shady mining promoter who will stop at nothing to fleece speculators through a series of devious and complex schemes. Barron Mining could be just the killing he has always planned for.
'Man bites Dog' is a Congolese child soldier, trapped and enslaved by a conflict of unprecedented brutality. In The Twain Maxim their paths are fated to cross under the malevolent gaze of Nyuiragongo, Africa's most volatile volcano, as the lure of untold mineral riches sets off a trail of devastation...
Click the cover below to read an extract from The Twain Maxim: