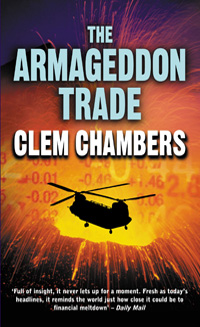 The Armageddon Trade
In a post-credit-crunch world, the global economy is hanging by a thread and dark forces are at work to kick civilization into the abyss.
Jim is a boy wonder who can read stock charts like fifty-foot road signs. His uncanny talent has taken him from tea-boy to trading superstar. Is he a genius or a fluke? He doesn't know.
The mysterious Max Davas, emperor of trading, makes billions dealing US treasuries using more computing firepower than NASA - but now his models are telling him that something's about to go catastrophically wrong. His system says that in a year's time, gold will be worth zero dollars an ounce, as will oil, as will Microsoft - and the dollar won't be trading at all...
A devastating secret awaits. But are predictions fate? Or does the Cockney kid hold the key to unlock the Armageddon trade? As 11 9 11 approaches, time is running out.
Click the cover below to read an extract from The Armageddon Trade: