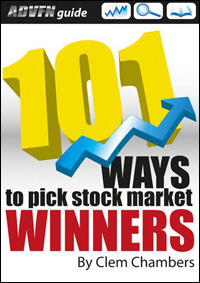 ADVFN Guide: 101 Ways to Pick Stock Market Winners
101 pithy and well-researched tips to help day traders, investors and stock pickers to focus on what characterises a potential successful stock. Clem Chambers is one of the world's leading authorities on market performance and now he's prepared to share his knowledge and expertise with you. His website, www.advfn.com, one of the largest trader information sites on the web, helps investors all over the world to analyse stocks and shares information. He broadcasts on finance and the global economy around the world for the BBC, CNBC, al Jazeera and BNN.
Clem uses all the techniques in this book for his own investments. They provide a toolbox of simple ways to filter out and zero in on companies you should be looking to add to your portfolio.
Incisive, brutally honest and occasionally very funny, 101 Ways to Pick Stock Market Winners is an invaluable manual for anyone wanting to make money out of the markets.
Click the cover below to read an extract from 101 Ways to Pick Stock Market Winners: